About Us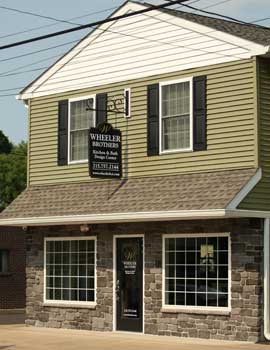 Wheeler Brothers Construction has been helping customers realize their home remodeling ideas for years. With the addition of our kitchen & bath design center – Wheeler Brothers Kitchen and Bath Design Center– we're now able to offer a much more relaxing experience to our valued clients. Our design center enables our customers to make product selections comfortably in our store, without the hassle of dealing with big box centers. And our casual atmosphere allows you to take your time in making your decision in a pressure-free environment.
Contractors With Strong Community Ties
We work hard to develop a sterling reputation in the community for the quality and variety of our remodeling products and our commitment to customer service. We're only satisfied when our customers are completely thrilled with their new investment. As a full-service home remodeling company, we are equipped to handle all of your remodeling needs no matter how big or small the project may be. From the initial consultation and design through the entire installation process, our staff is here to help every step of the way.
Ours is truly a family operation. When you deal with us, you're dealing with a Wheeler – Tom, Barney, Sheri, or Sean – and we're all capable and more than willing to assist in any way we can. We're also very proud of our commitment to our communities. We are active in many volunteer and non-profit organizations, and donate generously to various causes.
We look forward to talking with you further and providing you and your family the finest in customer service, home additions and kitchen & bath designs. Please feel free to stop by our new Wheeler Brothers Kitchen and Bath Design Center at 151 Bellevue Ave. in Penndel, PA to view our quality items and designs. For more information, please contact us today at 215-757-2144.